Sites You May Find of Interest
Cary B. Cornett has written several articles on sound and the recording process.
---
If you would like to exchange links leave a note in the
Message Center
or in the comment box below.
Book of the Day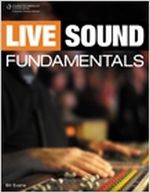 "Live Sound Fundamentals" is aimed specifically at audio beginners and musicians to teach you how to set up and mix a live audio event. Instead of using the frustrating and time-consuming process of trial and error or by watching others, LIVE SOUND FUNDAMENTALS provides the "missing manual" to the art of live sound through helpful pictures & illustrations combined with easy-to-understand techniques.
Check It Out