Sites You May Find of Interest
Cary B. Cornett has written several articles on sound and the recording process.
---
If you would like to exchange links leave a note in the
Message Center
or in the comment box below.
Book of the Day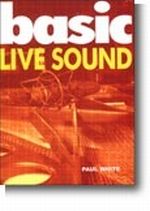 This compact book covers setting up your PA so that it does not feed back, choosing the right mic for the job, the back line, effects and monitor systems, tuning, basic wiring, miking instruments, DI techniques, radio mics and even performance tips...BASIC LIVE SOUND has the answers you need.
Check It Out