Welcome to Mixing Live Sound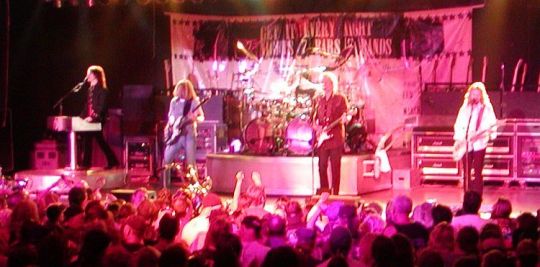 Styx in Concert
The purpose of this site is to pass on some of the knowledge that I have gained in the field of Live Sound Production. Live sound mixing can be a rewarding and profitable occupation. While it is not all glamor and there is real work involved at most levels there are some good times and interesting people in the music industry. You often have a chance to participate in making some great music.
I will post articles on various subjects regarding live sound production. I am also putting up some reprint articles that I find on subjects of interest. If there is specific information for which you are looking, and don't see it here, suggest a topic in the comment section.
I am also adding some videos and a music player to the site. If you would like to listen to some music while you surf the site click here to Play Music. A Player will open in a pop-up window. You can minimize the player and it will continue to play until it runs out of music until you close the pop-up window or it runs out of music even if you leave the site.
Let's all have some fun. I have just opened another new section of this site - My Musical Experience. So visit the section, register for your account and tell us something good.
I have just updated the bookstore with about 30 selected titles that I think some may find of interested. Check out the updated BookStore today. These books will show up in the 'Book of the Day' box eventually, but the bookstore lists them all. If you saw a book in the book of the day box but didn't click on it you can find it in the bookstore.
I have added a new section to the site. I am collecting some reprinted articles in this section. I will probably move some of the reprint articles that I now have in the main section to the reprint section. Below is a feed with the latest articles from the new section along with a short blurb. If you have knowledge about live sound or the industry to share please consider submitting an article for publication.
Latest Articles
Provided courtesy of:
http://soundarticles.mixinglivesound.com/
Articles at Sound Articles
Sat, 05 Jan 2013 18:58:00 -0600 - A live "sound reinforcement" system (like the ones used in concert venues, churches, and music festivals) is a collection of electronic components that allow sound waves to be converted into electrical signal, amplified, and then converted back into audible sound, usually at a much higher volume level.
Sat, 05 Jan 2013 18:17:00 -0600 - Sound mixing is an art which relies on technological tools for expression. Professional music producers spend a lot of time mixing their creations because mixing done the right or wrong way can make or break a song.
Sat, 05 Jan 2013 17:57:00 -0600 - Sound checks are all about getting a band's on-stage sound balance right, but with a crowd in you will need to make some further adjustments as two things will have changed.
Sat, 05 Jan 2013 17:41:00 -0600 - Summer is almost upon us, and so is the season for bands of all kinds to be invited to play outdoors - at a restaurant, at an outdoor party, at a national park. Wherever it is, all you have to do is set up your stuff and play, just like it was another night at the Itchy Kitty, right? Well, not exactly.
Sat, 05 Jan 2013 17:13:00 -0600 - When you are a new band, playing live is nerve wracking enough without having to worry about the front of house sound. Surely it's enough to be concerned about whether your finely crafted and highly practised material will stand up to public scrutiny, or if you'll make a tube of yourself by falling off the stage in front of the gathered mass of friends and family.
Sat, 05 Jan 2013 17:02:00 -0600 - At a gig, typically in a club or restaurant, the first part of my job consists of setting up the mixer, power amp, and effects boxes, running the snake to the playing area, and hooking up the instruments and vocal microphones to the snake. During the show, I ride the mixer faders as needed to keep the sound balanced and respond to requests from the band for level changes in the monitors.
Sat, 05 Jan 2013 16:27:00 -0600 - The most common microphones which are used for musical purposes are ribbon, condenser and dynamic microphones. All microphones have the competence to convert sound energy into electrical energy.
Sat, 05 Jan 2013 16:16:00 -0600 - Ever wondered why some drummers kits sound amazing and others sound terrible? Want to make your drum kit sound sweet on the live stage? What follows is what i think are just a few of the things you need to do to have a glitch free gig with a great drum sound that blends in with the rest of the band.
Sat, 05 Jan 2013 00:40:00 -0600 - One of the worst events that can befall a band during a show, aside from actual injury to any of its members, is to have a screeching blast of feedback suddenly deafen the audience, sending the band's approval rating spiraling downward.
Sat, 05 Jan 2013 00:24:00 -0600 - A moving coil microphone functions on the basic principle of Electromagnetic induction. It has a copper wire coil, which when moves in the magnetic field a voltage is generated.
Many of you, my visitors, are coming by way of search engine. You are interested in the art of mixing live sound, and probably many of you have specific questions about some phase of the business. I have now put up a Message Center. See the Message Center and ask a question or suggest a topic there on the subject of live sound mixing or the sound production industry. If I feel that your question or suggestion has general interest I will write an article and send you a link.
Thank you!! Wink
There are several industry news feeds that I have made available in the new News Feeds section. Please check them out. Individual feeds are available through the listing at the bottom of the left nav column.
A Tip For You
The formula for good sound is a good band, good equipment, and good ears out front. A good tech out front can deal with weakness in the equipment and make a less than perfect band sound better than they should.
Book of the Day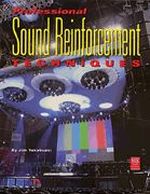 This witty and informative book demonstrates the finer points of live sound mixing from the perspective of an industry veteran with a proven track record.
Check It Out